Upcoming Technician Class
The NEARC will be hosting a Technician Class for all those interested. The class dates will be as follows:
February 15,17,18
February 22,24,25
March 1,3,4
With a test session on March 7th. For more information and to sign up for the class please email Doug Davis at douglas.davis77@gmail.com
NEA-RC wants to showcase your "Shack Spotlight"!
The Northeast Arkansas Radio Club would like you to show off your ham shack or your amatuer radio activities! All you have to do is submit one (or more) photos with a brief summary, to make you eligible for the monthly spotlight. Submit your photos and summary to Dylan Seaton (N5DTS) via email nremt49@outlook.com or submit them to our Facebook Page! One lucky operator will be selected monthly, so be sure to check back with us on our social media pages to see if you win!
---
Multiple Events Cancelled due to Corona Virus Outbreak.
As we have to announce these events that are cancelling, we hope that all understand that these decisions are for your safety and health in mind. The events list have been cancelled. We will continue to update this list as we receive more information. We apologize for the inconvenience and hope you understand these circumstances.
Cancelled Events:

NEA-RC April Meeting
NEA-RC March Picnic
Dayton Hamvention
Ides of March
Hanging Judge
Green Country Hamfest
---
NEARC Monthly Ham Test Session
First Sunday of each month
3:00 PM
Jonesboro, AR.
Contact Henry Mitchell 870-919-4101
---
The NEARC meets the first Monday night of each month at about 6 p.m. at the Jonesboro Fire Department Station 3 at 2212 Brazos ST. We encourage members to attend the meetings. Guests and other interested parties are always welcome. Yearly membership dues are $25.00 and this helps support club activities and projects. As always, we appreciate your continued support.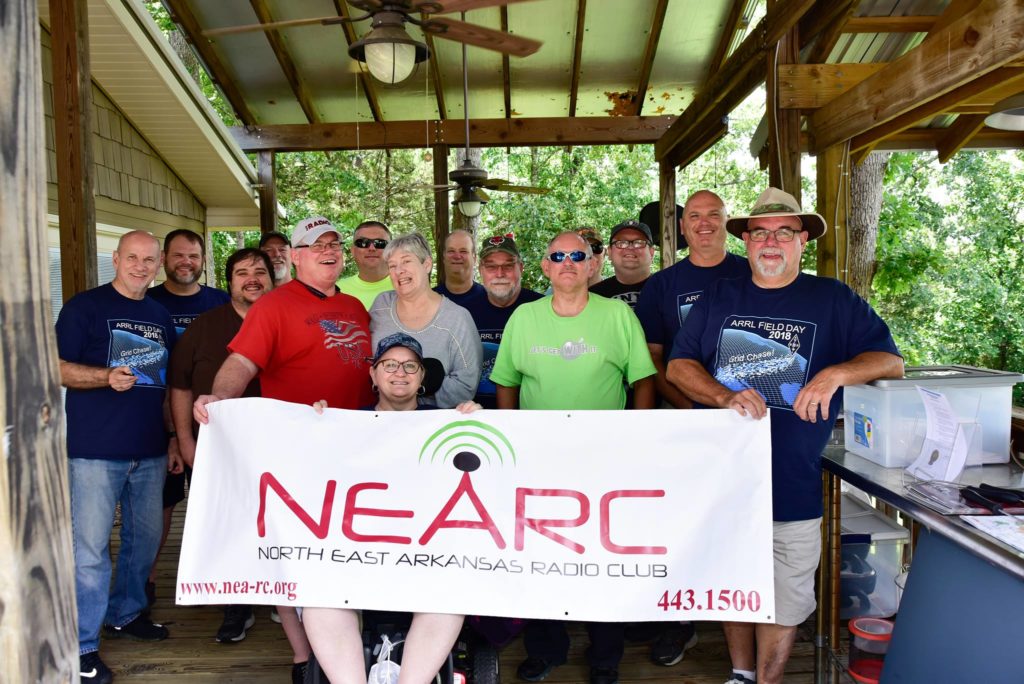 K5NEA Repeater
The club owns & operates the 443.150Mhz repeater from high atop Centennial Bank Stadium on the campus of Arkansas State University. The repeater also is linked via Echolink. It features a 2 meter remote base & voice alerts you when severe weather alerts are received from the National Weather Service. The repeater itself is a Kenwood TKR-850 with an Arcom RC210 Controller and a 16 bay Decibel Products antenna.
Mission Statement
The NorthEast Arkansas Radio Club promotes growth in Amateur Radio. We are involved in all aspects of Amateur Radio and want all members to grow and be involved in club activities.