NEARC Monthly Ham Test Session
First Sunday of each month
3:00 PM
Jonesboro, AR.
Contact Henry Mitchell 870-919-4101
General class July 16,18,20,23,25 and 27th. 18:00-20:30 at Fire station #3, 2212 Brazos St. Jonesboro, AR. 72401. Contact David Dalton 870-450-7021
Field Day 2018 is June 23-24. Location will be at 386 Cove Hollow, Henderson, AR. Come out and join us!
---
The NEARC meets the first Monday night of each month at about 6 p.m. at the Jonesboro Fire Department's Station 3 at 2212 Brazos ST. We encourage members to attend the meetings. Guests and other interested parties are always welcome. Yearly membership dues are $25.00 and this helps support club activities and projects. As always, we appreciate your continued support.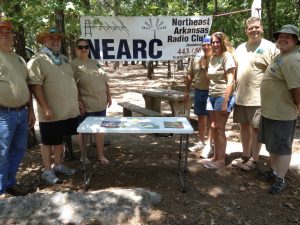 K5NEA Repeater
The club owns & operates the 443.150Mhz repeater from high atop Centennial Bank Stadium on the campus of Arkansas State University. It features a 2 meter remote base & voice alerts you when severe weather alerts are received from the National Weather Service. The repeater itself is a Kenwood TKR-850 with an Arcom RC210 Controller and a 16 bay Decibel Products antenna.
Mission Statement
The NorthEast Arkansas Radio Club promotes growth in Amateur Radio. We are involved in all aspects of Amateur Radio and want all members to grow and be involved in club activities.
Check out some recent photos of one of the group outings.